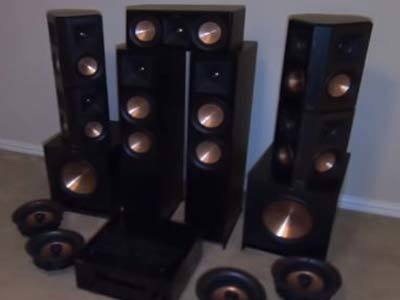 Difference Between A Stereo Receiver and an AV Receiver
Different folks fall under a certain category of audio system shoppers. The first group is that which does not put too much consideration the specific details, specifics and details attached to a given audio system. The second category of shoppers flocking the market is that which who before visiting a home theater shop will take the time to research through the available. They will dive in researching the process undertaken by the components of the home theater system while delivering the results. The final category is the group that lies in the middle of the, and is comprised of the majority.
Shoppers also differ in terms of those interested in a pre-packaged audio system and the group which assembles their own audio system. The big difference between these two shoppers is the quality of sound delivered depending on the size of the room. While the pre-packaged system mostly doesn't meet the high-quality sound required for a large room, those shoppers with the required technical skills can assemble a receiver or an amplifier, sound source device and the speakers which in the long run achieves them their desired sound quality for their large rooms.
Depending on one's preferences and budget there are many things to consider when choosing the best audio equipment system for your place whether small room or your spacious room. For those with the required techniques to assemble a home stereo system from the separate components acquired they need put much consideration as to whether to choose an AV receiver over a stereo receiver or a stereo receiver over an AV receiver.
Understanding an amplifier and a receiver
A receiver or an amplifier is the component in a home audio stereo system that connects and controls the content from the various sources and also the speakers. While a receiver has the ability to collect audio signals, process the signals received, and finally boost the signals to the speakers, it as well gives a transit path for video to either a projector or a TV set. An amplifier on the other hand only has the ability to receive, process and amplify the audio signal received to various speakers.
This article has specialized in informing a prospective audio system buyer the difference between a stereo receiver and an AV receiver in terms of quality of sound produced, music played by these components among other things.
Have you ever wondered whether to choose an amplifier or a receiver as your preferred component for a suitable audio equipment system for sound quality? Well we have done a research and after the information provided here you will be able to make a sound conclusion between the two.
Before making a decision, here is some crucial information about the two. An amplifier converts low voltage audio signal from a source equipment into a signal with enough ability to power a pair of sound speakers. The amplifier acts as both as a preamplifier and a power amplifier. As a preamplifier, it first assembles and selects several audio inputs before choosing the best level of gain required. As a power amplifier it heavily lifts the signals and boosts them with the gain to power speakers. A receiver is both a preamplifier and an amplifier combined with other features such as the volume controls, tone control, sound or signal source selection, etc.
Although a receiver is an all-in-one device that both saves your money and space, it has does not give you control over the quality of the amplifier. A receiver cannot also make systematic upgrades. With this con attached to the receiver, this grants a stereo amplifier the throne of playing a better sound generally hence the best in sound quality.
Types of Receivers
The market has not done the best in differentiating terms that more often than not sound interchangeable. The audio system market is among those that have not been so efficient in differentiating between stereo receivers and AV receivers. Only enthusiasts and audiophiles enjoy the privilege of comfortably and correctly understanding and differentiating between an AV receiver and a stereo receiver with ease.
Shoppers ought to understand that receivers can be broadly classified into AV receivers and stereo receivers. An audio system is comprised of either an AV receiver or a stereo receiver. The difference between the two is inevitable. While a stereo receiver is basic, an AV receiver on the other hand is a beast.
A stereo receiver is built such that it can only handle audio signals. Most stereo receivers are usually manufactured with volume control knobs, input selection knobs as well as radio turners. Although a stereo receiver possesses in built amplifiers it only has two channels, that is, two right and left channels. The enthusiasts and audiophiles often consider a stereo receiver to be more than an equipment for playing music.
An AV receiver is more complex than a stereo receiver. It both has video and audio inputs and hence can do switching of both videos and audios. Unlike a stereo receiver, an AV receiver can simultaneously support more than one input. Another unique feature of the AV receiver absent in the stereo receiver is its compatibility with TVs, gaming devices and devices used for media streaming.
Although not all AV receivers have in-built amplifiers, they act as the best channel for linking the gap that is between your speakers and media devices while avoiding the need to install several gadgets.
In terms of the quality of music experience, the stereo receiver outdoes an AV receiver. The best advantages of a stereo receiver that rank it to have a better music experience over the AV receiver include the focus place on only two channels so as to recordings by the stereo music, more attention is placed on quality audio of the top ranking and that the stereo receiver is usually designed to play music. A stereo receiver also makes music connectivity easy since it is simple to configure hence making the music experience of high quality.
When gauging the AV receiver and the stereo receiver in terms of sound quality, the stereo receiver also outdoes an AV receiver. Advantages attached to stereo receiver that rank its sound quality higher than the AV receiver include its design, where it is designed to receive audio inputs of high-fidelity and the fact that it is geared towards producing music.
Differences between a stereo receiver and an AV receiver
The major differences between a stereo receiver and an AV receiver in terms of the design and overall findings are as follows:
| | |
| --- | --- |
| AV Receiver | Stereo Receiver |
| Has five channels or more | It is limited to two channels only (left and right channels) |
| AV receiver is compatible with multiple media streaming appliances as well as audio inputs | Supports high-fidelity audio input only |
| Requires multiple configurations when setting up | It is very simple to configure a stereo receiver for music connectivity with ease |
| Requires a full support from the surrounding | It is designed to be of quality sound |
Various companies have put the various components together to come up with a stereo receiver that will meet all the customers expectation. Although that has not come pass, various key players have come up with stereo systems that have been rated based on the best feature. To best guide shoppers, this article has highlighted the best rating based on the price, voice control, overall best, WRAT among others. The overview is as follows:
Sony Stereo Receiver allows one to enjoy audios at the comfort of their room. It features four stereo RCA audio inputs, a FM radio and the design are of low profile
Sony 2 Channel Stereo Receiver is featured by 2 channels and 5 analog audio inputs. It also has an auto standby on top of an AM/FM tuner.
Onkyo 2channel Stereo Receiver features that make it produce the great benefits are its phono input, an independent treble, bass and balance controls as well as 5 audio inputs and a single audio output.
Yamaha Stereo Receiver are easy to access the voice control of your device using a mere alexa device made with a simple design. It has phono input terminal.
Sherwood Stereo receiver is characterized with 2 audio outputs, 3 audio inputs and a phono input of high-power amplification
Pioneer Receiver is best characterized with design of direct energy that is easily compatible with Bluetooth. It also has channels of 85W each and allows for automatic tuning.
A home audio and video system will only be considered complete if it is attached to a stereo receiver that best suits your specification. When looking for the most suitable stereo receiver put to consideration a device that is considered modern and one that will service your home theater and that that will be considered as the best investment.
At the helm of the most impressive home theater system, there is most definitely an up to standard receiver that suits your needs. For the best AV receiver, the sound output should definitely deliver a brilliantly mighty sound as well as deliver the awe-inspiring visuals to your TV.
For the folks with interest in watching videos and movies, gaming and listening to music, the concept of AV receivers is usually at their fingertips. Digitaltrends ranks the Anthem MRX 1120 as the best overall AV receiver in the general market. It has also gone ahead to rank the AV receivers based on amplifiers, TV/Movie viewing among others. The compiled list are as follows
Anthem MRX 1120 scoops the overall best receiver due to the fantastic sound it produces. The device is characterized by clean power and offers the software for room-correction on top of other state-of-the-art features
Sony STR-DH590 is the best ranked for being pocket friendly. Although the device is cheap, Sony has created a device that incorporates all the features available in other expensive devices.
The Yamaha RX-A680BL incorporates a one-of-a-kind phono input in addition to an array of contemporary features such as the HDR, Dolby, 4K, Atmos as well as streaming appliances. This device best suits customers interested in AV that best delivers a great video and audio output while incorporating the latest characteristics.
The Yamaha RX-A1080 ranks as the best AV receiver in terms of the musical experience due to its ability to enhance the audio in the music being played as well as the ability to upgrade the movie sound with little ease. The Yamaha RX-A1080 is incorporated with a new surround sound system powered by A.I. If you want a total control of your surrounding environment, the Yamaha RX-A1080 is the device to go for.
The Denon AVR-X3700H is a combination of high performing, powerful and long-lasting device that brings out a gigantic home theater system. This AV receiver is modern and has an 8K-future.
Conclusion
Well now that you are aware of the differences between an AV receiver and a stereo receiver, you might probably be wondering whether your room requires a stereo receiver or an AV receiver.
Here is a summary of why you need an AV receiver. It acts as the backbone of the home theater system where it is responsible for performing a wide array of vital functions. These vital functions include interchanging video and audio components, decoding the sound formats surround your DVD device as well as driving the speakers. Hence, if your interest majorly lies on achieving a sound surround of high quality then it is advised that you go for an AV receiver of a similarly high-quality.
A stereo receiver on the other hand will be best suited for a situation where your interest entirely lies on music only. As pointed out earlier, a stereo receiver is best designed for music. In a case where you want a receiver for the sound surrounding your home theater system then the AV receiver satisfies your need for both music and home theater.
When shopping for a home theater system for your house keep in mind the size of your room, your budget, your interest in terms of the sound quality, musical experience and the number of wires involved in delivering.
Read also>
Best Fender Amps for Sale Reviews and Guides
How to Connect a Subwoofer to the Receiver Without Subwoofer Output?