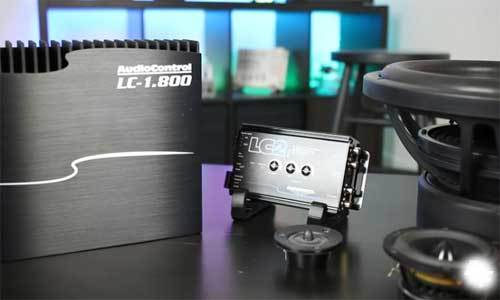 How to Match a Car Subwoofer and Amplifiers
So you have decided to come up with a powerful sound system for your car, and you don't know where to start? A car sound system comprises a subwoofer (or subwoofers) and an amplifier.
You may have the best amp and the best subwoofer, but if they aren't compatible, you'll not get the high-quality sound you're looking for. One mistake that many people make is that they think, for example, that a 2 ohms amp will work well with a 2 ohms subwoofer, but this isn't always the case.
You must match these two components according to their specification. Before looking at How to Match a Car Subwoofer and Amplifiers, here are some terminologies you need to understand.
Channels
When dealing with audio systems, a channel is simply a flow of data (information) in a line. In the case of an amp, a channel refers to a single power cable in which data flows.
So when we talk about a single terminal amp, it means an amp with only one terminal through which it transmits power to a subwoofer (speaker). A dual-channel amp (two-channel amp), on the other hand, refers to an amp with two terminals through which it distributes power to speakers.
We can also have four-channel or five-channel amps, which gives the number of channels (routes) through which the amps distribute power or information to speakers.
If you are a fan of music, you must have heard the word "mono" or stereo, and you must have associated them with sound. That's right. You can record music as mono or stereo.
Stereo music has two sides - left and right. The sides refer to the output. One side can output a particular set of instruments, and the other side outputs a different set of instruments or vocals.
You may have stereo music in which the left side produces the guitar sound while the right side produces vocals. The two sides must work harmoniously for the music to sound complete. Put merely, stereo is a two-channel sound system.
Bridging
Bridging is the process of bringing different channels together. If you bridge two channels, they will create one channel. Bridging is mainly used in two or four-channel amps.
If your amp has two channels, but you have only one subwoofer, you can wire or bridge the two channels to create one channel that you can use with your subwoofer. Think about it as having two paths leading to one wooden bridge. The wooden bridge combines the two paths into a single path.
Class D and Monoblock Amplifiers
Class D and Monoblock amplifiers are single-channel amps that normally operate at low frequencies, powering only one subwoofer. These amps are great for power 1 or 2 speakers. Are you wondering how a single channel amp can power two speakers? You should expect this, especially if you are not aware of parallel and series wiring.
If you have a single-channel amp and want to power two speakers, you can connect the speakers in parallel or series before connecting them to the amp. This is quite interesting because both the speakers will work just fine, and you won't notice they are sharing one amp.
2-Channel Amps
Two-channel amps offer great flexibility because there are many ways of connecting them with subwoofers. You can use each channel separately to power your speakers, in which case each speaker will act like it has a Monoblock amp connected to it.
If you wish, you can bridge the two channels to form one channel to act as though it were a class D or Monoblock amp. Once you bridge the channels into one, you can use it to power one or more subwoofers by connecting them in series or parallel.
When powering two speakers by bridging a 2-channel amp like this, then the amp load must be 4 ohms. Two-channel amps are great for running Monoblock amp systems.
4-Channel Amps
Just as the name implies, four-channel amps have four channels: they have four routes to power speakers. These amps work with speakers and not subwoofers. Most cars have four speakers. You can fix them in the front while the remaining two at the back.
When you are using a 4-channel amp, you can let each channel power one speaker. What if you want to use subwoofers? Well, with a little manipulation, you can use your 4-channel amps with subwoofers.
You need to bridge channel 1 and channel 2 to give one channel, then bridge channel 3 and channel 4 to give another channel. You will get two channels and hence seem like you are now using a 2-channel amp.
With the two channels, you can now have the connections discussed above (under 2-channel amps). Do not try to bridge all the four channels into one channel because this will damage your amp.
You May Like Also
Best 5 channel Amplifier-Car Stereo
Single Voice Coil (SVC) and Dual Voice Coil (DVC) Subwoofers
So much for amps. Let's now take a look at subwoofers. Subwoofers can either have single voice coils (SVC) or dual voice coils (DVC). When you sample subwoofers, you'll see the category in which they fall.
SVC subwoofers have a single terminal set (a positive terminal (+) and a negative terminal (-)) and single voice coils. On the other hand, DVC subwoofer has 2 voice coils, with each having a positive and a negative terminal. For this reason, a DVC subwoofer offers more connectivity options than an SVC subwoofer.
This also explains why DVC speakers can work at different power (ohms) levels, while an SVC speaker can only work at one power (ohm) level. However, an SVC subwoofer's sound quality is just the same as that of a DVC subwoofer.
Ohm
Ohm is the unit for measuring the electrical resistance of a conductor. If a potential difference of one volt produces a current of one ampere in a conductor, then the conductor is said to have a resistance of one ohm.
The formula connecting these three parameters, potential difference (V), resistance (R), an electric current (I), is V = IR (Potential difference is the product of current and resistance). Confusing right? Well, you'll not have to perform these calculations when dealing with subwoofers or amps. What you need to understand is that ohm is like resistance to energy flow.
When the ohm (resistance) is very high, only a little current will flow, and vice versa, for the same potential difference. Amplifiers can either be 2 ohms or 4 ohms. As you'd expect, 2-ohm amps have a higher power rating than 4-ohm amps. That is because the 2-ohm amps have less resistance to energy flow. For the best sound quality, you need to buy a subwoofer and an amp that gives the highest power when connected.
Parallel Wiring
To understand how parallel connection works, think of this wiring as parallel lines that never touch but run next to each other. When connecting two speakers in parallel, take both their positive terminals, connect them to one line, and then connect their negative terminals to the other line.
Series Wiring
Think of series connection as having all the connected components in one line. Just like you'd have people in one line facing one direction and holding their hands. The same current will flow through all the components connected in series. In this connection, connect the positive terminal of one speaker to the other speaker's negative terminal.
Parallel/Series Wiring Charts
One Subwoofer Wiring
| | | | |
| --- | --- | --- | --- |
| Voice Coil | OHMS | Series | Parallel |
| DVC | 1 Ohm | 2 Ohms | 0.5 Ohms |
| DVC | 2 Ohm | 4 Ohms | 1 Ohm |
| DVC | 4 Ohm | 8 Ohms | 2 Ohms |
| DVC | 6 Ohm | 12 Ohms | 3 Ohms |
| SVC | 4 Ohm | 4 Ohms | N/A |
| SVC | 8 Ohm | 8 Ohms | N/A |
Two Subwoofers Wiring
| | | | |
| --- | --- | --- | --- |
| Voice Coil | OHMS | Series | Parallel |
| DVC | 1 Ohm | 4 Ohm | 1 Ohm |
| DVC | 2 Ohm | 2 Ohm | 0.5 Ohm |
| DVC | 4 Ohm | 4 Ohm | 1 Ohm |
| DVC | 6 Ohm | 6 Ohm | 1.5 Ohm |
| SVC | 4 Ohm | 8 Ohm | 2 Ohm |
| SVC | 8 Ohm | N/A | 4 Ohm |
Matching Subwoofers and Amplifiers
Now that you understand the terminologies related to subs and amps, you can easily understand how to match these two components for the best sound quality. These two components function differently. While the subwoofer reproduces sound, the amp magnifies the sound, increasing its volume.
The idea here is to get a combination of an amp and subs that are well balanced and connect them such that they give the highest quality sound and none gets damaged. The above table can help you How to Match a Car Subwoofer and Amplifiers, but let's look deeper into how to do it.
The factors you need to consider when matching subwoofer and amps include:
The power
Subwoofers normally have two power specifications: the peak power (peak watts) and continuous power, also referred to as RMS (Root Mean Square) watts. The RMS rating of an amp is the quantity of power it can handle during its normal operations. The peak power is the maximum power it can handle without getting damaged.
Since the subwoofer and amp are getting power from the same source, it is advisable to match their wattage. First, determine the amp's power rating, then make sure the subwoofers rating is 150% maximum and 75% minimum. To get the total RMS rating of your subs, multiply the number of subs by the rating.
The resistance (Impedance)
Resistance is another essential factor to consider when matching subs and amps. Most subs today have an impedance of either 2 or 4 ohms. Matching resistance is a simple process, more so if you want to install one or two subwoofers.
However, if you want to use a DVC sub or increase the number of subs, then things might get a little complicated. For example, two subs, each rated 4 ohms, will require an 8-ohm-rated amp.
When you want to connect several subs in one sound system, make sure their coils and resistance (impedance) are the same. If not, power distribution among the subs won't be the same, meaning some will be over-powered while others will be under-powered. If you must use subs with different coils/impedance, then you must have different amps for each.
Selecting your amplifiers and subwoofers
When selecting an amp for your car, consider the number of subs you'll have and the amount of power they'll need. You can either choose a single channel amp or a two-channel amp. If you want high-quality bass, go for a single channel amp.
When buying subwoofers, you can either choose the SVC or the DVC subs. DVC subs are better because they offer a variety of wiring options. They also perform better and handle power well.
Matching the subwoofer with the right amp
The following combinations of amps and subs are the best to use.
One 4-ohm SVC subwoofer - Use two-channel amp
One 4-ohm DVC subwoofer - Use a single channel amp (mono amps provide more power at low resistance).
Two 4-ohm SVC subwoofers - Use a single channel amp. You can wire the subs in parallel to get the best result.
Two 4-ohm DVC subwoofers - Use a two-channel amp.
You can check also in video
Conclusion
Many electronics outlets sell complete sets of amplifiers and subwoofers. However, if you are very keen on sound quality, it is better to buy these components separately. You can only get the right sound quality you want by matching your subs to your amp(s).
The above guide should help you in this matching process. Once you have decided on what you want, make sure you purchase only from a trusted supplier. Check all the ratings carefully, for both the subs and amp, before you place your order.
When using these components, make sure the power is within the recommended limits to prevent damages.
Matching subs and amps is a simple process, but if you still feel you can't match the amps to subs, you can hire a qualified technician and discuss with him the kind of sound system you want, and you'll get help.