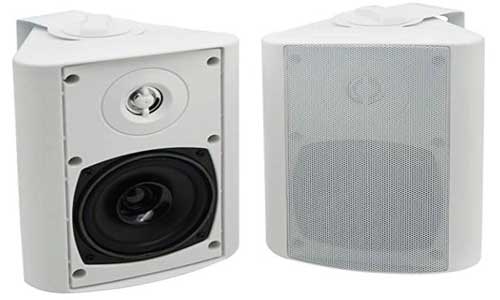 10 Best Outdoor Speakers for Movies Reviews and Guide
If you are organizing an outdoor movie night with your family or guests, selecting the right sound system is essential. Having the best outdoor speakers for movies will enable your guests to hear the audio clearly. Additionally, there will be little distortion if you turn the volume up.
You need to consider several things when choosing a portable speaker for outdoor movies. This includes setting up the price, size of your backyard, type of media player, and the projector you will be using. This guide will cover ten recommended outdoor speakers for movies that will make your outdoor experience better.
What is an Outdoor Speaker?
These are speakers that are made to handle outdoor elements while providing quality sound. Outdoor speakers have a wider soundstage compared to their indoor counterparts. Therefore, you can hear the instruments or music variances clearly when outdoors.
Many outdoor speakers don't feature built-in amplification, which means they require a power source since they are passive devices. Even if you have a Bluetooth outdoor speaker, which is technically wireless, you need to plug it to a standard AC power outlet. After that, you can pair them with your wireless-enabled device and enjoy quality audio outdoors.
What to Look for When Buying the Best Outdoor Speakers for Movies?
Outdoor speakers vary in some aspects from indoor speakers. When you are buying, you need to consider several tips to help you get a top-notch outdoor speaker. The following are some considerations to remember when selecting outdoor speakers for movies.
Weatherproofing
Of course, you will be using the speaker outdoors, where it will be subjected to various outdoor elements. If you need your speaker to last for many years, then you should consider a durable model that is completely weatherproof. For the best outdoor speakers, consider one which is rated at least IPX7 or above. An excellent outdoor speaker should be mud-proof, waterproof, snow proof, dustproof, and shockproof.
Size of the Space
The next thing you need to have in mind when buying an outdoor speaker is the space's size and the type of volume you need. If you have a small outdoor space, then buying smaller outdoor speakers will be better. But if you have a larger backyard and intend to host many people, then concentrate on larger speakers that give higher audio capacity.
Battery Capacity
If your choice is a Bluetooth speaker, you understand that the battery capacity varies from one model to another. You need speakers that last for many hours when watching movies outdoors. You can get some quality speakers that can hold charge for 10-20 hours, which are great for movies.
Connection
How do you intend to connect the speakers? The majority of outdoor speakers are wired. Hence they need a source of power. If it is hard to achieve that in your backyard or patio, you need to consider buying portable outdoor Bluetooth speakers.
Cost
You need to have the cost in mind when buying outdoor speakers. Unlike indoor speakers, outdoor speakers can be expensive because they have a rugged construction to withstand outdoor elements. However, this doesn't necessarily mean that you can't find a decent quality outdoor speaker at a fair price. There are many outdoor speakers to suit all budget levels. Additionally, if you will be buying Bluetooth speakers, they generally come at a higher price.
Ports
Does the speaker have a USB port or SD memory slot? If you prefer playing music from your pen drive, then a speaker with USB ports will better. It is also great if your speaker has a memory card slot or a USB flash drive. Lastly, you can also choose a speaker that features NFC connection to make pairing easy.
Size
Select a compact size speaker that is easily portable. However, ensure that it doesn't compromise on the sound quality. If the size is not an issue, you can consider a Bluetooth speaker designed with a carrying handle. You can transport it effortlessly wherever you want with ease regardless of its weight.
Additional Features
Some speakers feature casings that provide protection outdoors. Another feature you can find is the ability to connect two speakers to achieve a clearer theater feel.
What are the Best Outdoor Speakers for Movies
The market has a multitude of outdoor speakers, which can be complicated to choose. We have researched and tested a wide range of outdoor speakers and now recommend only the best. Read these reviews to help you determine with outdoor speakers suits your movie nights the most.
1. Pohopa True Wireless Stereo Outdoor Speakers
Make your patio and backyard movie nights enjoyable with the Pohopa wireless speakers. They produce clear and pure sound giving you a theater-like experience. These high-quality speakers are easy to carry both indoor and outdoor since they have a convenient handle design. They are waterproof and utilize TWS and DSP technology to give you exceptional performance. Additionally, their portable lantern design makes carrying them easier to your ideal locations.
Large Capacity Battery
No one wants to charge the speaker's batteries in the middle of the movies. This is why you should invest in quality speakers with long battery life. The rechargeable lithium-ion battery can last up to 12 hours when playing music continuously on half the volume while LED lights are on. On full volume, they can last up to 6 hours. The large battery capacity makes the speakers ideal for BBQ, movie nights, or outdoor parties.
LED Lights and Easy Use
The speakers feature beautiful 20-piece LED lights that are suitable for night use. The lights add a great ambiance when you hang the speakers. You can enjoy your experience since the lights are not yellowish like other ordinary lights. These ones are more white, and the speaker design makes good home décor. Using the speakers is not complicated because they don't contain plenty of control buttons. They utilize advanced technology which makes operation simple.
Wireless Pairing and Great Distance
With this function, it is easy to pair two speakers to create powerful 20W stereo surround sound. You will enjoy a rich sound both indoor and outdoor. The sub speaker and the host speaker link automatically in a matter of seconds when both are on, and using them is easy. The speakers provide an excellent Bluetooth distance of up to 33 feet from the cellphone to the host speaker. You will also enjoy a stereo dual pairing distance from the sub speaker to the host speaker.
Pros
Provide high-quality sound
The speakers are easy to use
Quality LED lights to add some ambiance
Nice design for easy portability
Great for different outdoor activities
Features a large capacity battery life
Cons
Great for the price, but the sound quality would have been better
The speakers don't stay connected

---
2. Dual Electronics High Performance Outdoor Indoor Speakers
Watching movies at night during summer is an enjoyable experience if you have quality outdoor speakers. You need these multi-purpose speakers that work great for indoor and outdoor use. The speakers are lightweight, weighing only 2.8 lbs, which makes transportation a bliss. However, the lightweight doesn't compromise its powerful performance. They have 1000-watt peak power, so they will work amazingly well in any space. Additionally, the speakers have a nice design that contributes to quality sound.
Powerful Performance
These speakers produce great audio quality to boost your listening experience. They feature a unique 3-way component make that ensures you get clear and crisp sound. Moreover, they are digitally optimized to give a powerful bass. Regardless of where you choose to place the speakers, you will always get extra-ordinary sound quality and precise acoustic dispersion.
Weather-resistant
When buying outdoor speakers, you should consider whether you want them to serve you for many years. These are weather-resistant, so you can enjoy your outdoor experiences without thinking about their durability. They are UV treated and features a durable ABS enclosure that provides maximum protection. Therefore, the speakers can withstand any extreme outdoor weather condition while preserving the sound quality.
Installation
The speakers come with swivel brackets that provide a versatile application. This allows you to place them conveniently, indoor or outdoor, in the best location. The swivel brackets give room for a 120-degree motion range, and the dual logo on the front can rotate to 890 degrees. All these ensure that the placement is okay to optimized to provide quality sound. When it comes to installation, professional help is required to ensure there are no errors.
Pros
It provides reliable and high-quality sound
Lightweight for easy transportation
Durable construction to handle all weather
Versatile design for easy mounting
You can use them indoors and outdoors
The speakers provide a powerful bass
Cons
Great speakers, but they don't last longer
They rust within a short time
---
3. Innovative Technology Outdoor Rock Speaker
Dealing with wired speakers outdoors can be messy and hazardous. You can make your experience better with these speakers because they don't require cables and cords. These solar-powered speakers have a battery that can last up to 50 hours per charge. How convenient is that? You can enjoy watching your movies at night or outdoor parties knowing you have enough power for the night. Additionally, the speakers match perfectly with the surrounding.
Solar Powered
These outdoor speakers are great to use during summer. You only need to place them outdoors to allow solar charging. It only takes about 15 minutes for the speakers to charge fully and up to 6 hours when using a power cord. When it is sunny, you can use the speakers while simultaneously charging and enjoying your music and movies at night. Therefore, you will never have to worry about power when you have these solar-powered speakers.
Durable Construction
The best thing you will like about the speakers is their design that blends well with the outdoor environment. They feature a strong construction, so you can be sure they will last for many years. They have a rugged exterior, which makes them withstand all weather conditions. Whether there is snow, harsh sun, or rain, these speakers will work amazingly well. You can choose to keep them open in your backyard or choose to hide them to amaze your guests.
Bluetooth Connectivity
The beautiful speakers offer long-range Bluetooth connectivity. They will pair faster with laptops, smartphones, and tablets to help you enjoy a quality sound experience. With this feature, it is easy to revel in wireless streaming from the internet radio or streaming apps. Additionally, you can play your best music from any device that is Bluetooth compatible.
Pros
They provide a powerful and rich sound
The speakers provide many hours or use on one charge
Durable construction for harsh outdoor weather
You will get a USB adapter and charging cables
Their exterior blend well with the backyard or patio
Cons
It has some annoying beeps
Great, but they don't last long
Repair service is poor
---
4. Bose Elegant Outdoor Speakers
Enjoy a superb listening experience with these environmental speakers. They are designed to offer the best audio performance and a full stereo sound, and unmatched durability. The speakers have rugged construction and a sleek style, which makes them ideal for outdoor use. You can enjoy listening to music on the patio, pool, or on your boat. Additionally, they blend perfectly with the environment. You can choose to mount them horizontally or vertically, depending on your liking.
High-Quality Sound
Bose is a top brand when it comes to the production of all types of speakers. This is one of their best outdoor speaker that produces top-quality sound. Unlike other speakers, these have a unique design with well-positioned drivers to provide consistent and large sound for outdoor use. You will also find convenient slop port tuning that minimizes air turbulence to give more in-depth ad cleaner music notes.
Protection
Not only do these speakers look sleek, but they are also durable. They feature a glass-filled polypropylene cabinet that gives the best protection from all weather conditions. the speakers can withstand fog and humidity while giving you great sound quality outdoors. Additionally, the mounting is adjustable, so you can either choose vertical or horizontal as per your needs. You will always get high quality and reliable sound even under extreme weather conditions and temperature.
Balanced Stereo
These stereo speakers match your environment well, and they give you a balanced stereo over a larger area. They also use Bose technology to help you get balanced sound all the time, unlike in other speakers that give sound in a single direction. Therefore, you can listen to your music wherever you want than staying at a single spot where you feel the music sounds better.
Pros
They provide a wider listening area
The speakers are durable to withstand outdoor conditions
You will enjoy a well-balanced stereo sound
They blend well with the surrounding
You will enjoy adjustable mounting
Cons
The speakers don't have bass
Bose warranty is horrible
The sound is distorted
---
5. Pyle Outdoor Waterproof Wireless Speaker
Do you need heavy-duty speakers that you can use indoor or on your patio? You can get these wireless speakers that come at an affordable price. The speakers have excellent features that will transform your outdoor listening experience. They also have a compact design, so carrying them will not be a hassle. Here are other outstanding aspects you will appreciate in these speakers.
Bluetooth Connectivity
The speaker system is Bluetooth compatible, so you can enjoy streaming music via Bluetooth. It can pair well with some latest devices like Android, iPhone, tablet, smartphone, and PC. Additionally, you will achieve easy pairing with these devices.
The speaker is also equipped with a 3.5 mm input pack, which helps you connect to other audio sources.
Mounting
These are durable speakers that feature a rustproof and durable grill cabinet enclosure. You can either opt to mount them vertical or horizontal on the ceiling, wall, or corner. It comes with a mounting plate bracket, and you will also receive a power adapter and 11.5 feet speaker wire.
Power
The speakers have 200-watt power to give you high-quality audio outdoors. You can enjoy clear sound in your backyard, patio, or around the pool. They come as one active and one passive 3.5-inches speakers for indoor and outdoor use. They also support a wide range of devices like computers, mobile phones, CD player, MP3 and laptops.
Pros
The speakers are loud and weatherproof
They provide easy mounting
You can use them indoors and outdoors
Bluetooth connectivity provides easy pairing
The speaker can support many devices
It features a durable marine construction
Cons
The plastic mounting brackets are cheap
Speakers are great, but they don't last
The inside of the speaker rusts
---
6. Bose Outdoor In-Ground Speakers
This is an amazing in-ground speaker that can withstand all weather conditions. Whether it is flowing or snowing, this speaker can handle all these extreme weather conditions. The speaker suits outdoor environments where mounting cannot take place. You can use it in your patio, deck, or garden and connect it to an existing receiver to get a natural sound. Additionally, it provides quality sound to a larger area.
Installation
These outdoor speakers need on-ground or in-ground installation, depending on how you want to use them. They make the best alternative to mounted speakers, and they can remain in the outdoor environment throughout the year. The speakers feature a strong construction that can withstand ice, rain, sun, snow, and saltwater. So, you don't need to worry about the speakers getting damaged. You will find some mounting holes on the base flange to make installation easy.
Innovative Design
They are innovatively designed to disperse sound up to 360 degrees. The speakers also have ports at the center that boost low-frequency performance to make your outdoor listening experience great. These outdoor speakers can handle a pressure of about 350 pounds. The speaker's underside has grooves that make it easy to tuck the wires for a professional installation look.
Durable Construction
These are the most durable speaker that will give you quality outdoor sounds for movie nights or parties. They feature a rugged and flexible design to provide outstanding outdoor performance. On top of that, they can withstand a temperature ranging from 40-150 degrees F. unlike other outdoor speakers; these have passed the salt and fog test by 66% more than what is needed by marine industry standards.
Pros
The speaker sounds well outdoors
Great speakers who can survive flooding
They produce great quality sound
Mounting holes make installation easy
You will enjoy a wide outdoor coverage
Cons
It stops working after a few uses
Many people receive the speakers broken
It doesn't work well as advertised
---
7. TIC Outdoor Weather-Resistant Omnidirectional In-Ground Speaker
The majority of the outdoor speakers above come as a pair, but this one comes as a single model. It features a shrub green finish that complements the aesthetics of your outdoor landscape. You can choose to use this speaker for residential or commercial use. The design of the speaker provides an exceptional sound response at a very pocket-friendly price. Therefore, if you don't want your outdoor speakers to hang randomly, this one will be a better pick for you.
Omni-directional Sound
It is designed with a 360 full-range driver that provides sound in every direction. You don't need to stay in a particular place to enjoy the best audio quality. You can enjoy listening well in any direction you choose. It has an ohm resistance of 8, and you can hear the sound over an acre. This is a suitable speaker for your landscape. You will get a 150-watt sound that blends perfectly with the surrounding area.
Durable Speaker
This is a weatherproof speaker that is meant for outdoor use. It is fully insulated to withstand extreme weather without compromising the quality of sound. This speaker has an ABS housing that can handle any outdoor environment better. It doesn't matter if you face the hottest summer or the harshest winter; this speaker will survive all these extreme outdoor conditions.
Installation
Installing the speaker is easy, and you can choose to do it on the surface on the in-ground. Ensure that your music source can support wired speakers. Install the speaker and then turn it on to enjoy quality sound. Some people recommend installing the speaker close to the ground to produce more bass. Other people say it is better to leave some space between the ground and the speaker. You can try each of these mounting positions to determine which one works best for you.
Pros
You will enjoy sound in all directions
The speaker has a durable construction
It provides an easy installation
Quality outdoor speaker at an affordable price
Its green color matches your landscape perfectly
Exceptional wireless control
Cons
The speaker is great, but it doesn't have a thunderous bass
It requires a big amplifier
---
8. Heavy Duty Waterproof Outdoor Speakers
If your budget is limited and want to enjoy great outdoor sound, you can get these waterproof marine speakers. These are multi-purpose speakers that you can use in your RV, motorcycle, truck, boat, marine, motorbike, and truck, among others. The speakers have a maximum handling power of 100 watts and a frequency response of 80-20,000 Hz.
Compact Design
The speakers feature a compact design to make carrying them outdoors easy. However, you will be impressed with the quality of sound that comes from these small speakers. They are loud and provide an amazing audio performance regardless of where you use them.
Durable Construction
Outdoor speakers should have a durable construction that indoor counterparts to handle the outdoor weather. These speakers feature a marine-grade waterproof make that makes them best for outdoor use. Moreover, they are rustproof, and the plastic cabinet can handle harsh weather conditions.
Easy Installation
Installing these speakers is easy because they come with bolts and mounting brackets. You can mount them to any convenient place outdoors in your automobile. They are compact enough so they will not take much space. This makes them the best option if you have limited space.
Pros
The speakers and powerful and compact
Installing them is easy since they come with mounting brackets
They can handle harsh weather conditions
The speakers have a waterproof construction
They are great for marine and vehicles
Cons
The speakers don't have Bluetooth
You will experience sound distortion at mid-level
---
9. Hero Outdoor Bluetooth Speakers
Enjoy quality music with the Herdio Bluetooth speakers. These speakers connect with your Bluetooth-enabled devices like iPhone, Alexa, iPad, mobile, and tablet, among others. So, you can enjoy fun entertainment right at your fingertips. They have a Bluetooth range of 30 feet. However, you need to connect one Bluetooth device at a time. And if you want to use another device, you should disconnect the previous one.
Versatile Applications
The speakers are great for large areas. You can either wall mount them indoors or outdoors based on where you want to use them. Also, they work well for boats and home theaters to meet your big areas needs. The compact design, sound projection, and rugged construction make the speakers suitable for bars, deck, shop, porch, and other living spaces.
Durability and Mounting
You will enjoy all-weather performance with these outdoor speakers. They feature a marine-grade construction, and they are waterproof. The speakers also have a protective metal grill and ABS housing reinforcement to survive even the harshest outdoor weather. Mounting them is easy with the swivel brackets so you can place them in your ideal location. The swivel bracket gives room for 120-degree motion range, and the front facial rotates up to 90 degrees.
Quality and Crisp Sound
Enjoy loud and clear sound in your outdoor environment. When you connect the speakers, they offer a great sound performance to meet your needs. The speakers fill the area with crisp sound, and you will also feel the deep bass. This makes your outdoor listening experience the best. The speaker also has internal cabinet walls that eliminate annoying cabinet resonance to provide clean sound regardless of the level.
Pros
The speakers are Bluetooth compatible
They are made with top quality materials
Installing the on the ceiling or walls is easy
They provide clear and clean sound quality
Great performance under all weather conditions
They are suitable for big area range
Cons
Some users don't like the sound quality
Doesn't have a button for Bluetooth pairing
It struggles to connect to Alexa
---
10. Pyle Outdoor Waterproof Wall and Ceiling Mounted Speaker
Enjoy Bluetooth wireless performance with these marine grade speakers. They are ideal for indoor and outdoor, and they make a perfect choice if you want to enhance the stereo sound in your backyard, patio. Decks and boats. In the package, you will get one passive and one active speaker and a 2-channel built-in amplifier. The speakers have a waterproof construction to provide durable outdoor use.
Universal Mounting
Mounting the speakers is easy since they have a rugged cabinet enclosure that allows vertical or horizontal mounting. You can choose to mount them on the ceiling, corner, or wall, depending on where you find them convenient. You will find two adjustable mounting plate brackets to make your installing job easier.
Bluetooth Connectivity and Device Compatibility
These weatherproof speakers are loud enough to meet your outdoor needs. You can stream music wirelessly via Bluetooth, and they work well with iPhone, tablet, iPad, Pc, and smartphone. The speakers can also support a wide range of devices, and it has a 2-channel built-in amplifier to allow connection to audio sources externally. It supports devices like CD player, camcorder, tape deck, and tuner, among others.
Waterproof Construction
You can use the speakers in your backyard, boat, by the pool, and other outdoor places without worrying about water damages. They feature marine-grade waterproof construction for the best outdoor application.
Pros
Great speakers for indoor and outdoor use
They feature a waterproof and durable construction
Allows Bluetooth audio streaming
Provides quality and loud sound
Great speakers for the boat, patio or pool
You can connect various external devices
Cons
They stop working after some time
The warranty service is horrible
---
Frequently Asked Questions
Q: What connection type should I choose for my outdoor speaker?
A: Knowing the connection is critical when buying outdoor speakers because you have various options. First, you need to determine if you want to connect them with a media player, an outdoor projector, or you want wireless speakers. If you prefer wired speakers, consider your outdoor space layout and place various items. You can choose to wire the speakers to your tablet, smartphone, laptop, or DVD player. Regardless of the connection choice you make, ensure the device and the speaker are compatible. Otherwise, you might not hear anything if they are not compatible.
Q: Should I buy wired or wireless speakers?
A: This depends on your personal preference. However, I would recommend wireless speakers. I find them pretty easy to use because you don't have to deal with wires or cables' stress. These cables can create hazards in the outdoor environment. If you choose Wi-Fi speakers, you should consider having a strong Wi-Fi signal, and you should also pair the speakers with a device that is compatible with the Wi-Fi medial player. It can be a tablet, laptop, or smartphone. Moreover, you can choose to pair the speaker via a Wi-Fi-enabled projector via Bluetooth.
Q: How should I test outdoor speakers for quality?
A: It is great to test the outdoor speakers to ensure you are getting the quality you want. You need to test several things like the audio quality. Here, you need to concentrate on the vocals, bass, treble, and midrange. How do they sound, and are they well-balanced? The next thing you should check is the size and how the speaker will perform in different outdoor settings. Do the speakers work better in certain areas, or do they fill some areas? Another thing you should examine is weatherproofing. Are the speakers resistant to water and temperature? Do they have rigid housing? Also, consider if mounting is straightforward and whether they include smart technology. Having all these considerations in mind will ensure you have a quality outdoor speaker for movies.
Final Verdict
Technology has greatly evolved, which has made watching movies a changing experience. Today, you don't necessarily need to watch your movies indoors. With the best outdoor speakers for movies, you can enjoy some quality time with your guest outdoors. You need outdoor speakers that are portable so that it is easy to bring them wherever you want.
They should also resist various elements outdoors for durable performance. You should also consider speakers with long battery life to avoid the hassles of wire connection. We have given you top reviews and buying tips to enable you to pick a suitable speaker for outdoor movies. I believe you will compare these speakers and choose the one that suits your outdoor needs well.