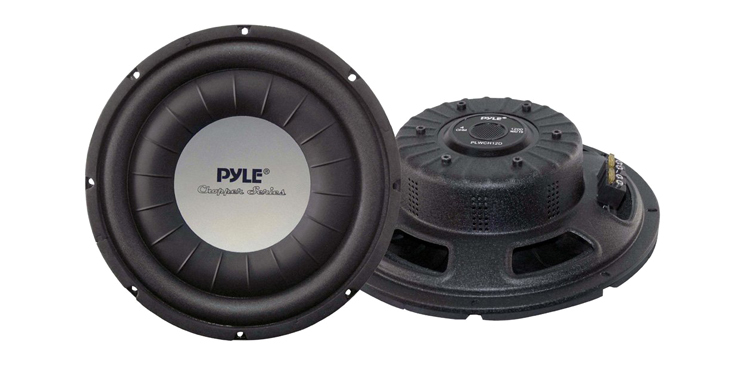 5 Best Shallow Mount 12 Subwoofers Guide and Reviews in 2023
Drivers usually crank up the volume of their car stereo during long drives. It can make them less drowsy and alert while behind the wheel.
If you want your car's audio system to sound better, and make your long drives more enjoyable, then you should add a best shallow mount 12 subwoofers. This is arguably the most common size of a subwoofer available in the market.
If you're worried about the subwoofer intruding cargo and passenger space, then add a best 12 shallow mount subwoofer.
The best shallow mount 12 subwoofer can generate more bass compared to an 8 and 10-inch subwoofer. It can make listening to various music types like rock, country, dance, and R&B even more enjoyable. Installation, however, is more complicated than an 10 or 8 inch car subwoofer.
Best Shallow Mount 12 Subwoofers - Reviews
1.

PIONEER TS-SW3002S4 12" 1,500-Watt Subwoofer
Do you want to improve the sound system in your truck or SUV? The best shallow mount 12 inch subwoofer is a good choice; coming from one of the more popular brands.
Pioneer ts-sw3002s4 has a compact design, allowing you to install it behind or under the seats depending on your vehicle.
With a mounting depth of 3-3/8" inch, this is one of the best shallow 12 inch subwoofer you can find on the market.
Good build quality
This pioneer 12 sub has an oversized cone structure. This results to better cone and gasket surface that result to louder and deeper bass.

Because of the oversized cone surface, more air is able to move that translates to deeper, more accurate bass. The cone itself is made of MICA injected molded resin. It is rigid and durable. It should be able to withstand years of use.
Enclosure
According to most reviews, this best shallow mount 12 Subwoofer would be able to produce good bass if it is boxed in a sealed enclosure. Pioneer recommends its own down firing shallow subwoofer. But there are many customers on Amazon.com who say that it can also be paired with other enclosures, and not just the one from Pioneer. Either way, expect this pioneer 12 subwoofer to elevate the bass production of your vehicle's audio system.

However, be warned that this won't fit a standard 12 inch box cut out hole. You may have to cut out a bigger hole if you are installing it yourself.
2.

Rockford Fosgate P3SD2-12 P3 Shallow mount 12-Inch
Rockford is another name that rings a bell among audiophiles. Those who have installed this 12-inch subwoofer from Rockford cite that like other products of the company, this sub produces very clear bass notes.

When paired with an appropriate amplifier, this best shallow mount 12 subwoofers can significantly improve the existing sound system of your vehicle.

This best 12 shallow mount subwoofer has a 3.6 inch mounting depth, just slightly deeper than the Pioneer model. However, most reviewers on Amazon.com seem pretty happy with it. They say that it's as deep of a sub that you can have in your SUV or truck, sans the need to custom work.
Good Build Quality
This Rockford shallow mount subwoofer has plenty of good qualities. Let's start with its spherically vented motor. It efficiently exhausts excessive heat through its spherically vented motors, resulting to a lower operating temperature. This makes the subwoofer very efficient.
Enclosure
With its shallow depth, you should have no problems fitting it into any space in your truck. It should work well with a custom enclosure, or a subwoofer box you find online. According to the reviews I read on Amazon.com, most users place it under the seat of their trucks.

As for the sound quality, the consensus among reviewers on Amazon.com is that it delivers. They say that it can produce clean and loud bass. Others even comment that the sound produced by the sub would be easily mistaken to come from a 15 inch sub.
3.

Pioneer TS-SWX3002 12" Shallow-Mount Pre-Loaded
This Pioneer 12 subwoofer pales in comparison with the two previously mentioned subwoofers if we are to discuss the mounting depth.

This best 12 inch shallow mount subwoofer has a mounting depth of 6-3/8 inches, at least 2 inches thicker than the two other subwoofers.

But if we are to talk about power handling, it can held its own against the best of them. It can handle up to 1500 watts of power, with a nominal of 400 watts.
Enclosure
This best shallow mount 12 subwoofers already has its own enclosure, so you don't have to worry about customizing its box. The said enclosure houses that oversized and mica-injected molded resin cone. Like the other Pioneer 12 subwoofer, the cone moves more air to promote superior bass response. There's also a dual spider design that promotes cone stabilization, and allowing it to pump out clear and accurate bass.
Installation
This shallow mount sub has angled push terminals that enable the wires to remain straight, unlike in horizontal and vertical terminals where wires are bent. This is designed not only to save on space and make installation a breeze. It also minimizes the stress on the wires. There are a couple of metal L-shaped brackets that go along with eight screws for mounting the enclosure in your vehicle.

As far as sound quality goes, this best shallow subwoofer 12 gets excellent feedback from Amazon.com reviewers. They say that it can unless deep, clean bass without any distortion, even if the volume is increased to high levels. Moreover, many of them are happy that it is reasonably priced as well.
4.

Rockford Fosgate P3SD4-12 P3 Punch Mount
Rockford enters this list again with another shallow mount but powerful sub. This 12-inch subwoofer can work well in both sealed and vented enclosures.

The sub hits clean and hard, you would think that there are two subs in your vehicle.

It's also surprisingly slim that it wouldn't really take up much space in your car or truck.
Superior Build Quality
As you can expect from a good brand like Rockford, this sub is well made. It has an anodized aluminum cone and dust cap, keeping the unit lightweight. At just 12 pounds, this subwoofer won't add a lot of weight to your ride.

But the cone can maintain its shape even when you decide to crank up the volume. Its patented Santoprene surround also allows for superior excursion for max output, and should enable the sub to last for a long time.
Mounting Depth
With a mounting depth of 3.6 inches, this 12 inch subwoofer should not be that difficult to install in your vehicle. It is also optimized for both sealed and vented enclosures, so you aren't limited to the type of enclosure or box for this sub.

If we are to talk of audio quality, this subwoofer pretty much exceeded expectations of reviewers on Amazon.com. They say it hits hard, even when playing hard bass songs. You'll have to give it some weeks to break in, though.
5.

Pyle PLWCH12D 12-Inch 1,200-Watt Subwoofer
If you really have a small vehicle but you want a lot of power that you can't get from an 8 or 10 inch subwoofer, then this is the subwoofer for you.

It has one of the shallowest mounting depths at 3.28 inches. Despite its compact size, it has a nice power of 1,200 watts. This is one of the top rated slim 12 inch subwoofers in this list.
Build Quality
This subwoofer has a high quality, poly mica cone. There's also a butyl foam surround in this sub. Butyl rubber is well known for its ability to resist and endure exposure to all elements.
Its dual, 2.5 high temperature voice coils are also able to resist corrosion.
While it has a shallow mounting depth, this subwoofer can handle power of up to 1,200 watts. Its RMS is rated 600 watts.
Although it can handle up to 1,200 watts, the sub can hold up to all kinds of music and volume level even at 600 watts.
For all its good qualities, it also has some drawbacks. One is that there are eight terminals needed to be wired in a series parallel. Adding to the confusion of Amazon.com reviewers is that the terminals are not labelled. Four of the terminals are for input, while the rest are output. You'll have to wire them correctly because if you don't, the best 12 inch shallow mount subwoofer will produce a horrible sound.
Verdict
These five best shallow mount 12 subwoofers have different specs but basically do the same thing-- add bass to an otherwise lethargic car audio system. All these shallow mount subs can make your daily commites and long trips more bearable.
Whether you are into rock or EDM or hip-hop, you'll be able to appreciate your favorite songs more when you have any of the best 12 inch shallow mount subwoofers installed in your ride.
Moreover you will appreciate that these best 12 shallow mount subwoofer don't eat up precious cargo and passenger space in your vehicle. Installing these subs may take more effort though as they may not fit in the factory subs of your car. Still, that's a very small price to pay so to speak for a more souped up audio system.